If anybody tuned into the Jets/Bills game last night (hereafter known as
Pyjama Bowl 1
), you saw the hideous spectacle of both teams wearing nearly monochromatic uniforms. The Jets were decked out in green jerseys, green pants, green socks, shoes, etc. and the Bills in red jerseys, red pants, red socks...
It looked like Christmas barfed on a football field.

Take a look: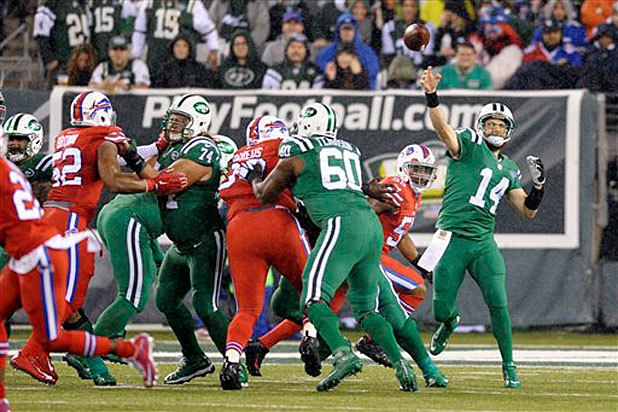 It also proved problematic for the
colorblind
, since red/green colorblindness is the most common form of colorblindness.
This madness will continue for another 3 weeks. Next week we get the
Titans in powder blue
vs.
the Jaguars in gold
.
The "Color Rush" campaign will cover four Thursday night games between now and the end of the season. Instead of one team wearing a dark jersey and the other white, as the league traditionally requires, both teams will wear primary colors of their alternate third uniform.
I was taking solace in the fact that the Vikings/Cardinals game doesn't fall into this "Color Rush" window of Thursday night games until I read
this
:
The NFL said all 32 teams will have a "color rush" uniform by next season that will be worn specifically for Thursday games airing on CBS and the NFL Network, so prepare yourself for an explosion of rainbow colors in 2016.
I'm just praying the designers at Nike (who should be ashamed of themselves) don't decide to emphasize the Vikings secondary color and put them in all yellow uniforms whenever their turn comes up. If I'm reading the hints in this trailer right, that's going to be the Rams fate:
http://www.nike.com/us/en_us/c/nfl/colo ... CupqhOovVw