Interesting analysis of this year's class in regards to SPARQ scores. Nebraska's Ameer Abdullah produced the best SPARQ score of any RB in the 2015 NFL Draft. Abdullah posted a score of 142.5, which places him in the 95.6 percentile of NFL players. SPARQ is a formula that factors in each Combine/pro day test along with weight. Northern Iowa's David Johnson was second with a score of 139.7, placing him in the 93.1 percentile. Both were well ahead of their peers.
http://3sigmaathlete.com/2015/03/15/pos ... ning-back/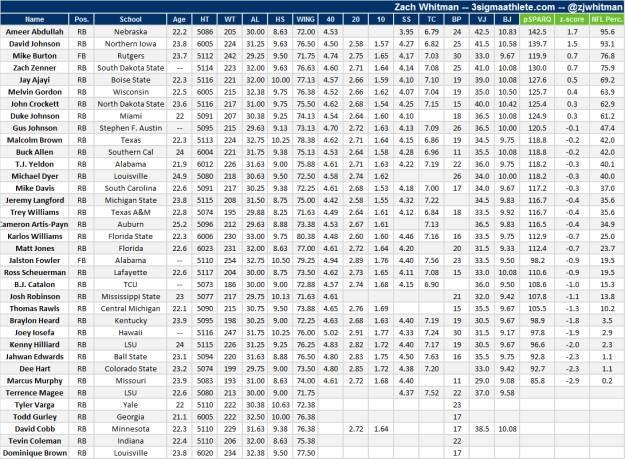 Then, for fun, read this about McKinnon (whose score is crazy):
http://www.rotoworld.com/articles/nfl/4 ... thleticism
Jerick McKinnon, RB, Minnesota, 147.5 pSPARQ

Name HT WT AL 40 10 SS 3C BP VJ BJ pSPARQ simScore
Jerick McKinnon 5.72 209 30.25 4.37 1.52 4.12 6.83 34 40.5 11.00 147.5 N/A

No other running back has an athletic profile similar (i.e., over 80) to that of Jerick McKinnon. Backs with McKinnon's speed, lower-body explosiveness and upper-body strength just don't exist. He's truly unique.

He's also a freak. An average NFL skill position player will ring in at around a 110 pSPARQ, a good athlete at 120, and very good at 130. Elite is about 140, and the 150+ range is reserved for Calvin Johnson, Vernon Davis, and a select few others. McKinnon's 147.5 is one of the top scores among all running backs over the last 16 years.

An option quarterback at Georgia Southern, there's certainly a fair amount for McKinnon to learn at the NFL level to become a running back. The transition isn't guaranteed. But out of 1000+ RBs, my database shows that only 56 have recorded a sub-4.4 40-yard-dash at either the combine or their pro day. The top 6 pSPARQs from those 56 are: Willis McGahee (tests taken pre-ACL), Chris Johnson, Edgerrin James, Jamal Lewis, Reggie Bush and Jerick McKinnon. When you're the kind of freak McKinnon is, you tend to do pretty well in the NFL.