Finally, able to make a proper post about my trip. What a great game to be at. The Mrs. really outdid herself.
My wife and a couple of our friends got a really nice AirBnB and we all drove up from Kentucky. Went to the Mall of America, drove around the various parks, and ate some great food. Seeing people clad in Vikings gear everywhere and stores with Vikings stuff was super weird – in a good way.
The highlight (aside from the game, of course) was the stadium tour. We took the tour on Friday and there's good reason people here have been so positive about it. We got to go to all of the various suites and clubs and look around. Got to go into the press box. Learned about the stadium itself and how the ceiling works. Walked through the entire stadium just about in an hour and a half.
We also got to see the press room: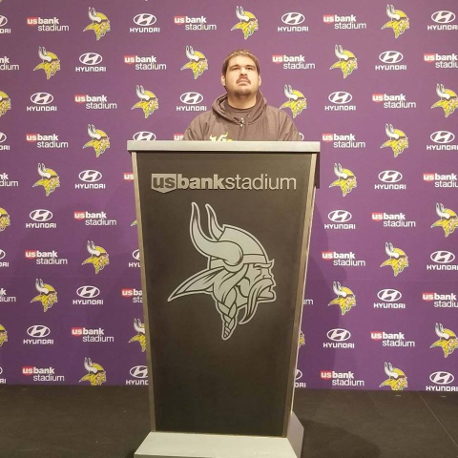 We got to walk out of the tunnel: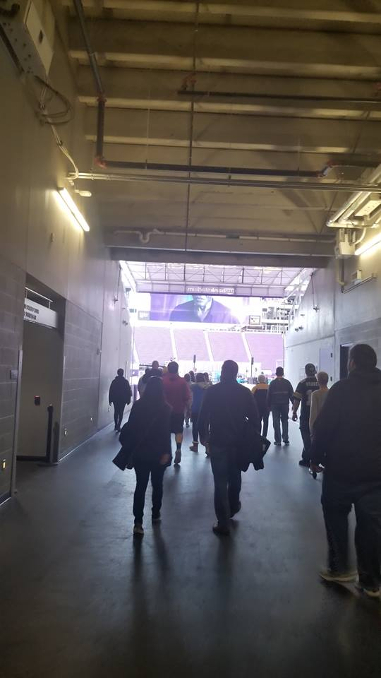 And onto the field: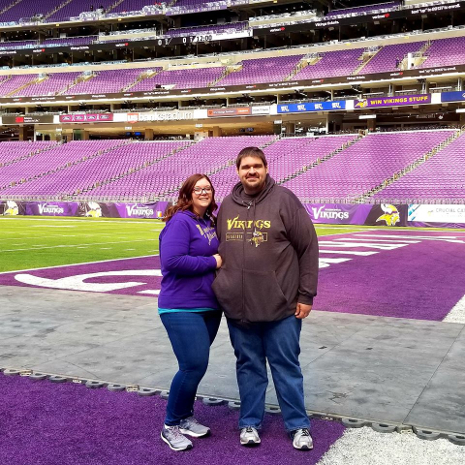 Just a really cool experience overall.
Then there was game day. We spent a little time out at the tailgating area but it was snowing so we didn't stay out too long. We had actually planned to try to tailgate ourselves but it fell through. The snow made me feel much better about that!
Something to understand about me; I grew up … unwealthy. So, even going to a game at USB seemed like a foreign idea as the tickets can be pretty pricey. Though my wife and I are financially solid now, my brain still defaults to "that's too expensive" about anything over $50 bucks. I lead with that to help understand the level of excitement I felt just going to the game in general.
Then, however, to learn what "Club seats" actually means. I just assumed it was a section of seating on the field. Better views or whatever. Imagine my surprise on the tour when I find out club seats mean you get access to an actual club! A limited number of people have access to bathrooms, specialized vending, huge TVs everywhere, seating, etc.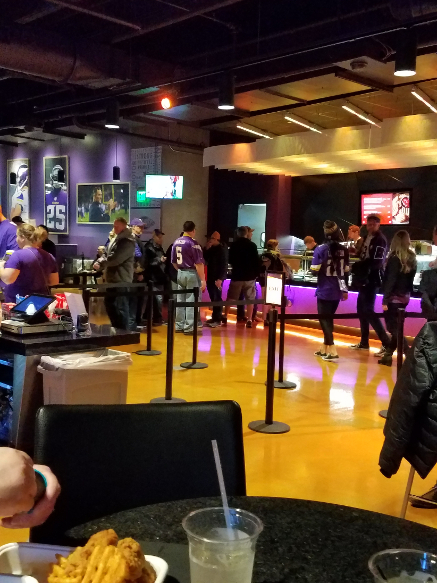 We weren't quite fancy enough to get the high-level club where everything is paid for – food, drinks, etc. (maybe one day) Nonetheless, super impressive setup.
Our view of the game itself was awesome. We were sitting directly over where the announcers sit a few rows up from the cameras: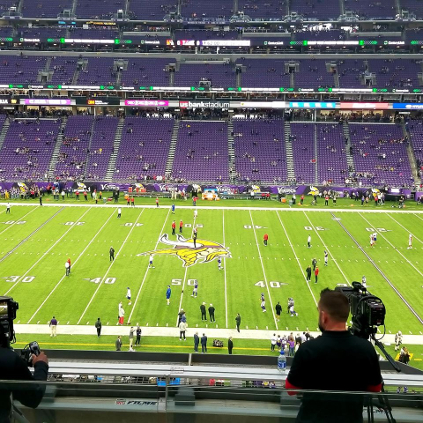 I've been to a few away games that are closer to my area and this was my first home game. Having so many Vikings fans around cheering the team on was amazing. Making noise while the other QB is trying to direct the offense. A sea of purple in the stands. The Skol chant and song. Just stuff you don't get when you're at an away game.
Of course, the game was great to watch. The Vikings did really well and the Cardinals never really had a chance but kept it interesting. I won't go into much detail about the specifics there because we have another thread dedicated to that.
If you ever have the chance to go to USB and haven't been – do what you can to go!