I always say, I'm not saying this is what's going to happen. Will it be correct, no. I have hit on a decent number of picks over the years (Munnerlyn, Hill and Jennings in FA, Waynes, Patterson, Hodges, Harrison Smith and Floyd (at the time I had us getting Floyd in the 2nd before he shot up draft boards),) but it's next to impossible to ever get these right but I know you guys enjoy the read. I look to assess our current needs as best as I can and keeping it as realistic as possible.
I must say, I do a lot of research on these guys and if you look at my previous mocks, many of the guys I have us selecting may not be making an impact for us but they are making a big impact elsewhere. A few years ago, I had us getting Devonte Parker, Denzel Perryman, Tevin Coleman, Tre Jackson, Jamon Brown, etc. All who were either starting or making some noise as rookies. Also had us drafting Su'a Cravens and Graham Glasgow last year.
REMEMBER ANYTHING CAN HAPPEN!!!!
The Vikings finish 8-8 and receive the 15th pick of the 2nd round (47th overall) in the 2017 NFL draft
OFFSEASON OVERVIEW
2016 Vikings Free Agents
LT- Matt Kalil-
Resigned/1 year, 2nd year option contract
- (We're in a pickle with both OTs being free agents and not having a first round pick. He is the younger option, give him a prove-it deal with an option
CB- Captain Munnerlyn-
Resigned/1 year deal
- Still playing at a high level, loves playing for Zim, a leader on the team, I say hold onto him plus it provides more depth and doesnt force Alexander in there if he doesnt need to be
WR/KR- Cordarrelle Patterson-
Resigned/3 year deal
- Made huge strides this year as a WR and is a pro bowl KR. I say he's a must keep. Nobody on this team is more dangerous with the ball in his hands than this guy.
FB- Zach Line-
Resigned/2 year deal
- Been a fairly solid FB for us. No reason to go look for a new one
RB- Matt Asiata-
Resigned/1 year deal
- Not a fan of him at all as a runner but is somewhat useful in 3rd down situations.
LB- Audie Cole-
Resigned/1 year deal
- Depth/ST purposes
RT- Andre Smith-
Let go
- Not getting any younger and coming off a bad injury
LT- Jake Long-
Let go
- I feel for the guy. Use to be a great tackle but too many serious injuries
QB- Shaun Hill-
Let go
- If Teddy's rehab looks promising, no need to hold onto Hill
DE- Justin Trattou-
Let go
- Have his replacement in Weatherly
P- Jeff Locke-
Let go
- Time to bring in a new punter
LB- Chad Greenway-
Retires
- One of the greats but father time has gotten to him. He'll be missed
CB- Terrance Newman-
Retires
- He
could[/b] come back another year but with Waynes getting more and more reps, I feel like this is his last year.



RB- Adrian Peterson- Released - Hurts me to say this but it's time. We cant rely on him to stay healthy because if he's now, our running game is worse than anyones. Time to get a fresh start at the RB position.


WR- Jarius Wright- Traded to the

Cleveland Browns

for 2017 6th round pick - There is no point in paying Wright this money if he is hardly ever active. Get what you can for him










Spielman continues to go after youth and not over spend in free agency



RT- Ricky Wagner - 4 year deal

-Wagner has started 46 games and counting for the Ravens. I dont think his price will be anything overly high. He would be a good option to plug in right away at RT.







CB- Dre Kirkpatrick - 2 year deal

-Dre was drafted when Zim was in Cincy. He hasnt lived up to his first round pedigree so we could get him on the cheap. He knows this defense and could play a big depth role behind Rhodes and Waynes.







OG- Patrick Omameh- 2 year deal

-Has started 32 games over the past 3 seasons. Not your typical household name but another good depth piece to have at the guard spot. He's had quite a few good weeks over the past 3 seasons according to PFF.








OLB- Alex Okafor- 2 year deal

-Okafor is a good depth piece that can rush the passer. He will compete with Lamur for Greenways spot





Round 1 - NO PICK (Traded to Philadelphia)



-------TRADE-------

Vikings trade their 2nd round pick (47th overall), 4th round pick (via Miami) and 7 round pick to the

Jacksonville Jaguars

for their 2nd round pick (35th overall)



Round 2

OT - Ryan Ramczyk - Wisconsin

Ramczyk has been a stud at Wisconsin. His biggest strength is pass protection which is clearly something we could use. He shows a lot of power in the run game too. He's very athletic and would be an immediate upgrade to the OL. He will immediately compete with Kalil and if he doesnt win the job year one, he very well could by year 2.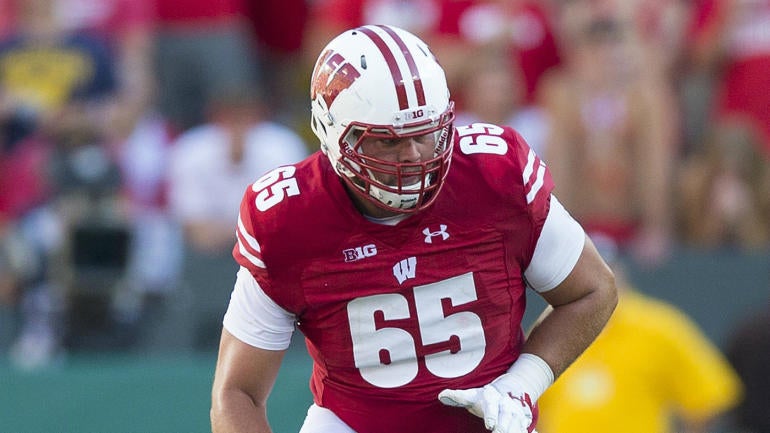 Highlights: https://www.youtube.com/watch?v=Vj2K7AYm7yM




Round 3

DT - Charles Walker - Oklahoma

Walker has been on the rise lately and we could use some more depth at the DT position with Tom Johnson getting older and Floyd up in the air. The thing with Walker is that he did bail on his team to prepare for the draft and it caused a lot of media stir. He could go anywhere from round 1-4. I say he slides a bit and it could be a huge hit for us.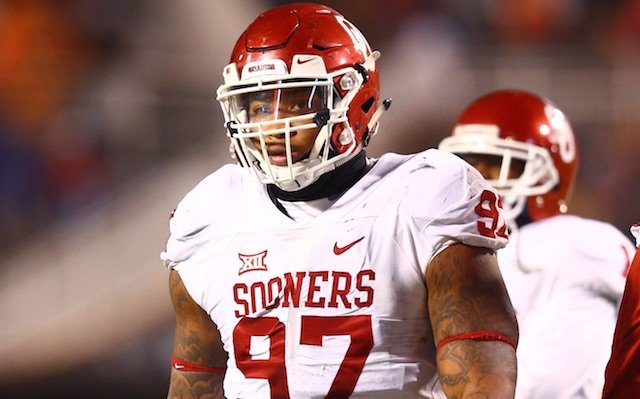 Highlights: https://www.youtube.com/watch?v=5IczJgLdWqY




Round 3 (via Miami)

RB - Semaje Perine - Oklahoma

I always have at least one man crush every year and this is easily my #1. When I see this guy run the ball, all I can see is Maurice Jones-Drew. This guy is an absolute monster that is a true down hill runner. One of the strongest RBs I have ever seen coming out of college. He will be an immediate starter at RB.




Highlights: https://www.youtube.com/watch?v=KYChH34dBuc




Round 4

OT/OG - Forrest Lamp - Western Kentucky

First of all, great name. Second, he's currently an OT in WKU but is only 6'4 and will probably play guard in the NFL. He's a hard-nosed lineman that can immediately compete with Fusco and also provides a lot of depth.




Highlights: https://www.youtube.com/watch?v=Y1vBFZRXa0k



-------TRADE-------

Vikings trade their 5th round pick to the

Tampa Bay Buccaneers

for their 5th round pick and 7th round pick



Round 5 (via Tampa Bay)

TE - Cole Hikutini - Louisville

I wasnt big on taking a TE here but with Pruitt leaving, we need another receiving TE in case Rudy went down. Hikutini is a very good receiving TE that would provide a good depth piece.






-------TRADE-------

Vikings trade their 6th round pick (via Clevelands trade for Wright) to the

Arizona Cardinals

for their 6th round pick and 7th round pick and 2018 6th round pick



Round 6 (via Arizona)

CB - Brandon Facyson - Virginia Tech

Facyson is a huge corner at 6'2. You can never have too many CBs. He will provide depth and play special teams to start






Round 6

OT- Jon Heck - North Carolina

Heck has been a solid pass protector for Trubisky and provides more depth at the tackle spot. He will play RT and back up Wagner






Round 7 - NO PICK (Traded to Jacksonville)



Round 7 (via Arizona)

QB - Brady Gustafson - Montana

Gustafson is a monster (6'7). He will be a developmental guy that we can look to groom.






Round 7 (via Tampa Bay)

P - Cameron Johnston - Ohio St.

Johnston averaged 46+ yards per punt at OSU and will take Locke's place.





....Hope you guys enjoyed the read!!!